In anticipation of the new outdoor learning guidance being released statewide, we at
Environmental Education of New Mexico (EENM)
are excited to announce the launch of a new website to support
"Outdoor Learning in New Mexico during COVID-19: Resources and Support for the 2020-2021 School Year"
(
https://outdoorlearningnm.org
). This new website is designed to support "Parents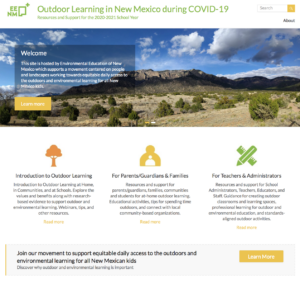 & Families" and "Teachers & Administrators" across the Land of Enchantment with implementing outdoor learning at home, in communities, and at school during and after COVID-19.
This directly aligns with our larger, community-generated vision of "Every Kid, Every Day, Every Way" to support daily, equitable access to the outdoors and environmental learning for every New Mexican child.
We have curated a variety of resources including how to connect with local organizations, agencies, and schools for support (and please feel free to add your information via the google form here: https://forms.gle/KixdUhahoKkeMRCp9). This new site provides ways to begin local, relevant, standards-aligned outdoor learning today.
We invite parents/guardians, teachers, school staff, and community members to participate in this three-part webinar series on outdoor learning opportunities in the Land of Enchantment. Join outdoor and environmental educators in exploring outdoor learning at home, in community, and at school and gain access to resources and support across the state of New Mexico. Join us and get outside!
Social and Emotional Learning in the Outdoors – Tuesday, October 6th at 4:30 p.m.
An introduction to integrating social and emotional learning (SEL) practices into your outdoor learning. This webinar will feature Estrella Risinger of the Association for Environmental & Outdoor Education (AEOE). Estrella has spent the last 4+ years studying, researching, and integrating SEL practices as the project manager of a multi-year grant from the S. D. Bechtel, Jr. Foundation as part of its Character Initiative. As the lead of the Residential Environmental Education Partnership on SEL, one of the grant's projects, she helped launch the website Grow-outside.org, a Social and Emotional Learning Toolkit for Residential Environmental Learning Centers.
Estrella is the Executive Director of AEOE, where she works to advance the impact of environmental and outdoor education in California. She recently served as the National Education Manager at NatureBridge, the largest education partner of the National Park Service. A former classroom teacher and camp counselor, Estrella has a background in both formal and informal educational settings. She lives in Oakland, CA, where she is the mother of two active children who love being outside almost as much as she does.
In our continued journey for equity and inclusion, EENM strives to provide spaces that support authentic inclusion and are accessible to participants. If there are any considerations we can make to support you (ex: ASL interpretation, scent-free spaces, service animals, mobility assistance, etc.), please let us know when you register. For virtual events, we now include live closed captioning on Zoom.