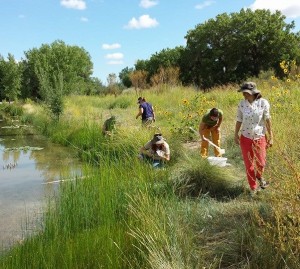 Environmental education is more important today than ever.
Children play outside half as much as their parents did.1
Kids (ages 8-18) spend 7+ hours each day using entertainment media.2
68% of Americans failed a basic environmental awareness quiz.3
EEANM works to connect people with nature and reverse these trends.
Since 1991, the Environmental Education Association of New Mexico (EEANM) has been providing, promoting and enhancing quality environmental education by providing New Mexicans opportunities for professional development, communication and partnership. We are one of 54 affiliates of the North American Association for Environmental Education.
Who Are We?
EEANM is a 501(c)(3) non-profit, non-partisan organization. Meet our dedicated staff and board of directors.
Our members are environmental education professionals in STEM, government, higher education, K–12 education, non-formal education, early childhood education, science education and business, and many other sectors.
We are supported by members and donors. Donations are tax-deductible in whole or in part.
Our Vision
A culturally and geographically diverse New Mexico citizenry with the knowledge, skill, attitude, and commitment, to make informed decisions about their environment.
Our Mission

EEANM is a non-profit organization which provides, promotes, and enhances quality environmental education by offering New Mexicans opportunities for professional development, communication, and partnership.
Our Goals
To encourage and support implementation of high quality environmental education curricula that leads to an environmentally literate citizenry. To determine needs of New Mexico educators for environmental education.
To provide and increase awareness of EEANM programs and resources to New Mexico environmental educators. to serve as a resource network to share information among people involved in environmental education in New Mexico.
To serve existing members through conferences, regional meetings, projects that support EE, and workshops.
To foster and support participation by members of diverse groups within New Mexico.
Our Programs
From professional development to networking, EEANM provides programs for environmental educators from all settings and across the state. Join us for a workshop or a lunchtime gathering. Find upcoming events and more under Programs.
Ready to get started?
---
Citations:
JCB Kids, 2013.
Kaiser Family Foundation, 2010.
National Environmental Education and Training Foundation, 2005.