Online applications are now open through January 20, 2020 for the Exploring Equitable Education Outdoors Fellowship program. The online application is available by clicking here.
Are you interested in exploring the interconnectedness of outdoor and environmental learning, access to the outdoors, and social impact through creating a systems change agenda while learning, dreaming, and growing in community?
We at the Environmental Education Association of New Mexico are seeking 15 Fellows in 2020 to create a multi-year collective strategy for systemic change for New Mexico through a program that cultivates leadership, systems thinking, and a comprehensive vision and strategy. This multi-year strategy will provide the pathway for systems change to provide equitable, daily outdoor and environmental learning for every preK-12th grade student in school and their local communities.
The Exploring Equitable Education Outdoors Fellows will move through a transformational leadership model and emergent process to grow their own leadership while exploring systems thinking and gaining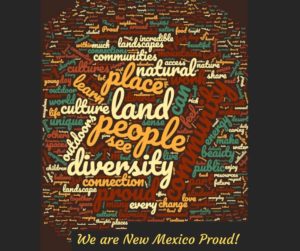 skills in advocacy and messaging. Each participant will have an opportunity to network and grow their own community of support. At the end of 2020, the Fellows will have co-created a shared multi-year systems change agenda to support equitable, daily access to outdoor and environmental learning for every student while growing their own leadership and gaining new ways to communicate and advocate.
Lived, work, and educational experiences are all valued and Fellows can be at any career level. We are seeking those who advance environmental learning in many forms, not only those that self-identify as environmental educators.
Applicants will:
– Show a passion for connecting young people with the outdoors
– Demonstrate an openness and commitment to lifelong learning
– Have a desire to deepen relationships and broaden their peer network
– Reflect a spirit of innovation and taking risks
– Value intergenerational learning
Fellows must commit to the following:
– A retreat from Friday, February 14 from noon-6 p.m. and Saturday, February 15 from 9 a.m. to 6 p.m. at the Indian Pueblo Cultural Center in Albuquerque (lodging for our out-of-town participants and meals for all will be provided)
– A retreat in Albuquerque from Friday, July 31 at noon through Sunday, August 2nd at 6 p.m. (lodging and meals will be provided)
– Videoconferencing sessions monthly from 4-6 p.m. the last Wednesday of every month (February-December 2020)
– Contribute to planning and attending the 2020 New Mexico Proud: Exploring Equitable Education Outdoors gathering in late 2020
– A day attending a New Mexico Legislative committee hearing (date TBD)
In return, Fellows will receive a $5,000 scholarship to cover costs for participation in the program which will include high quality professional learning, experienced facilitators, resources, opportunities to engage with decision makers, and meaningful, inspiring retreats. Additionally, each Fellow will receive a $500 stipend as a way of honoring the experiences and skills that each Fellow contributes. Lodging during the retreats for out-of-town participants will be single occupancy rooms and we are exploring local, tasty food options for meals during the retreats (like the Pueblo Harvest Cafe at the Indian Pueblo Cultural Center).
Why this Fellowship and why now?
Currently, there are no systems or requirements specifically to provide and integrate outdoor or environmental learning for students within the State of New Mexico. The lack of shared messaging around the importance, value, and relevance of outdoor and environmental learning has led to a lack of resources. This lack of resources stems from decision makers (including those influencing policy, financial resources, and structures within schools) not investing in advancing environmental and outdoor opportunities for youth in schools or local communities.
Rather than individuals or singular organizations advocating for individual efforts, we will support the Fellows to mobilize a community to support a shared systemic change agenda with measurable impact. We will move from decision makers hearing disjointed messages to consistently hearing a united, more powerful message, thus increasing the likelihood of broader support. Ultimately, this Fellowship will build a stronger network with shared vision for supporting all of New Mexico's students.
The Environmental Education Association of New Mexico (EEANM) is the only organization in New Mexico working cross-sector and with such a variety of organizations to support a collective approach that advances environmental and outdoor learning. We believe access to daily environmental and outdoor learning is an issue of equity and justice, and are committed to the idea that all students deserve authentic, culturally relevant, and meaningful learning opportunities. To this end, we work with environmental education providers and those who advance environmental know how in other forms, using a community-centered approach.
EEANM is a leader in community-centered approaches, having worked with over 100 thought leaders in education, conservation, environmental justice and outdoor recreation in 2018 to create our new mission, vision, and strategic direction. Our organization continuously invests in supporting shared leadership and authentic inclusion, internally and externally. This Fellowship program along with the new Community of Practice launched during the December 2019 New Mexico Proud: Exploring Equitable Education event demonstrate our commitment to building a movement centering on people and landscapes to transform education and provide equitable access to the outdoors for all youth.
Applications:
The online application is available by clicking here.
Applications are due by Monday, January 20, 2020. Applications are open to all EEANM Individual members (it takes just a few minutes to sign up at https://eeanm.org/join/). We might schedule 30 minute phone calls with prospective candidates during the week of January 20th and final selections and announcements will be made by January 31, 2020.
Please take some time to prepare your thoughts and answers to the following before submitting your application through the secure online form.
Application Questions:
Do you have a current individual EEANM membership?
If yes, please proceed. If not, please visit eeanm.org/join.
Upload your resume. Besides educational and work experience, please feel free to add other relevant experience in the community (volunteer positions, community service) and feel free to share other accomplishments in your resume.
Describe a time when you were proud of your leadership. (250 word limit)
What leadership skills would you like to learn or explore through this Fellowship (200 word limit)
What leadership skills will you bring to the Fellowship program? (200 word limit)
Why are you interested in exploring systems change with others to support every student having access to daily environmental and outdoor learning? (200 word)
What does collaboration (with individuals, organizations, projects) look like to you? (200 word limit)
What else would you like us to know about you? (200 word limit)